Premium Off White Oval Replacement Laces (6 Colors)
$9.99
Level up your kicks with these replacement oval Off White replacement laces!
The "SHOELACES" print is heat pressed in silicone rather then screen printed.
This helps the writing last longer compared to other lace manufacturers.
Comes 60″ inches long.
All laces have the "shoelaces" print on both sides of the laces and on both ends.
A great way to flip your Off White Prestos or Vapormax!
Colors:
– Neon Orange
– Neon Green
– Black
– White
– Turquoise
Note: These laces are replacement laces and not original Off White laces. For most accurate results, measure your original laces before ordering.
You may also like…
Sale!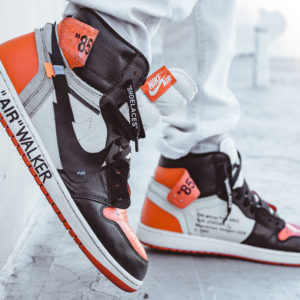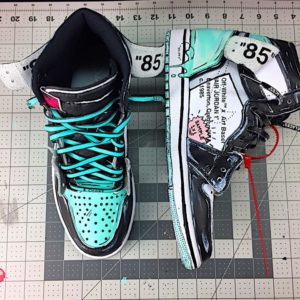 Off White Stencil Pack
Choose between these 2 stencils sets! We also offer the zip tie to finish off the OFF WHITE look!
"SHOELACES" & "AIR" Stencil Set
This stencil set includes:
– 2 "AIR" stencils for your outer midsole
– 4 "SHOELACES" stencils
Adding stencils to your customizing not only saves you time, but gives you clean finished products that are properly spaced out for you, making customizing easier & resulting in more professional finishes.
————————————————————————————————————————————————————
Complete Off White Stencil Pack
This stencil pack gives you everything you need to complete a full Off White Jordan 1 custom! Please reference the product images to see the finished product using this stencil pack! This pack comes with:
– 4 "SHOELACES" stencils
– 4 "85" stencils
– 2 "AIR" stencils
– 2 "OFF WHITE FOR…" inner shoe stencils
– Additional "AIR" & "SHOELACES" stencils to practice with
– 6 additional OFF WHITE stickers/stencils to apply where you choose!
Note: does not include swooshes
————————————————————————————————————————————————————
ADD ON Zip Tie
Complete that detailed OFF WHITE look with our colored zip ties & match your shoes!
These zip ties come in multiple colors to help match the theme of your shoe and embellish your custom project!
Available in:
– red
– green
– blue
– yellow
– light blue
Note: premium zip ties have text on them
——————————————————————————————————————————————————
New to customizing and need some help? Subscribe to our YouTube channel Feelgood Threads and learn everything from the basics to complex projects free!
Here is a tutorial on how we used the these stencils to make the shoes pictured above. We used the following to complete these shoes:
– Complete Off White Stencil Pack
– 1 ADD ON Red Zip Tie
not rated
$

3.50 –

$

19.99
Select options