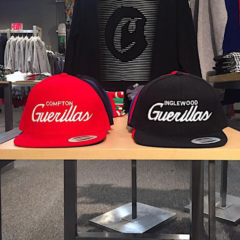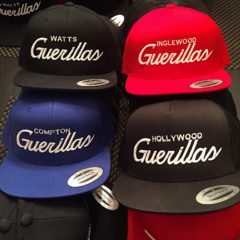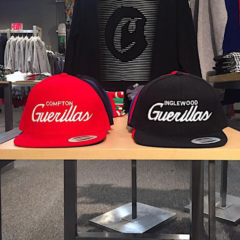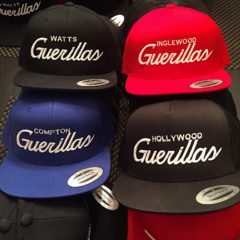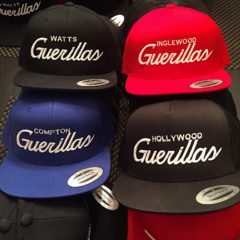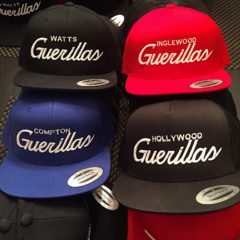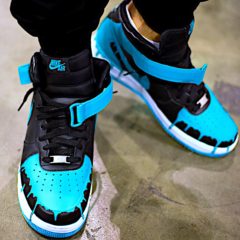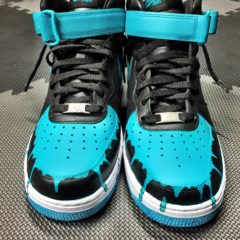 Air Force 1s – Dripped Up Draped Out
This gallery will show you some of our most recent work. If youre wondering why there is no drop down menu to choose your size, its because we custom make each order by hand when the client requests it. Here's how to order a pair of Feelgood Custom Kicks:
– decide what pair of kicks you'd like to get customized. We require that the shoes be new…
– contact us for a quote, if you agree to the quote, we will schedule a delivery info and other details.
– THATS IT! Just wait for us to start working on your masterpieces and await arrival of your kicks!
Keep in mind that all our products are customized by hand, so the process of completing your shoes varies depending on how many clients are in front of you, the difficulty of your custom and other variable occurrences. We will always give you a turnaround time prior to ordering. This is considered wearable art, we do our best to prep, paint and seal our custom work. However, people wear their kicks in all types of manners, so we cannot guarantee custom work unless we find the work to be defective on our part. Custom work is nonrefundable once an order has been placed.
$

350.00
Add to cart
Sold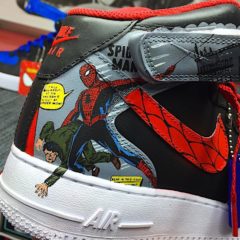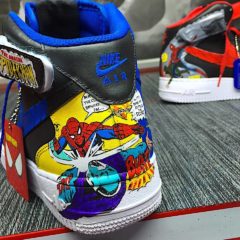 Air Force Ones – Spiderman Customs
These Spiderman themed Air Force Ones were made with a combination of hand painting and airbrushing.
This pair is a 1 of 1 custom and will not be replicated.
This custom was actually freestyled (customer gave us full creative control) as a birthday gift for his good friend. These Air Force Ones were created for someone who has a true love for Spiderman. As a comic book fan, one can only imagine to have something created that is near and dear to them, and be the only person to own them. These customs were made way before Nike released their "Top 3" Jordan 1 model.
Both images that were painted on the shoes were actual comic clips from Spiderman comics. The right shoe is from a famous cover issue called "Amazing Fantasy" #15 (1962), where Spidey swings through the city grabbing yet another villain.
Contact us if you would like to make your own 1 of 1 custom. Lets work…
not rated
$

450.00
Read more
Sold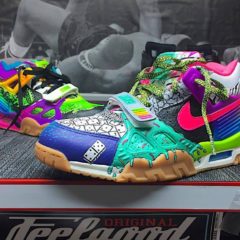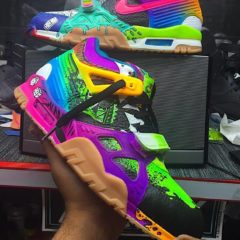 Air Max Trainer – "What the 90s!?" Custom
These Nike Air Trainers receives a 1 of 1 custom with a 90s style theme. This custom took months to complete because of the complexity involved with the different sections of the shoe. This pair of shoes has several 90s … Read More
not rated
$

700.00
Read more
Sale!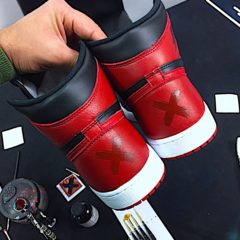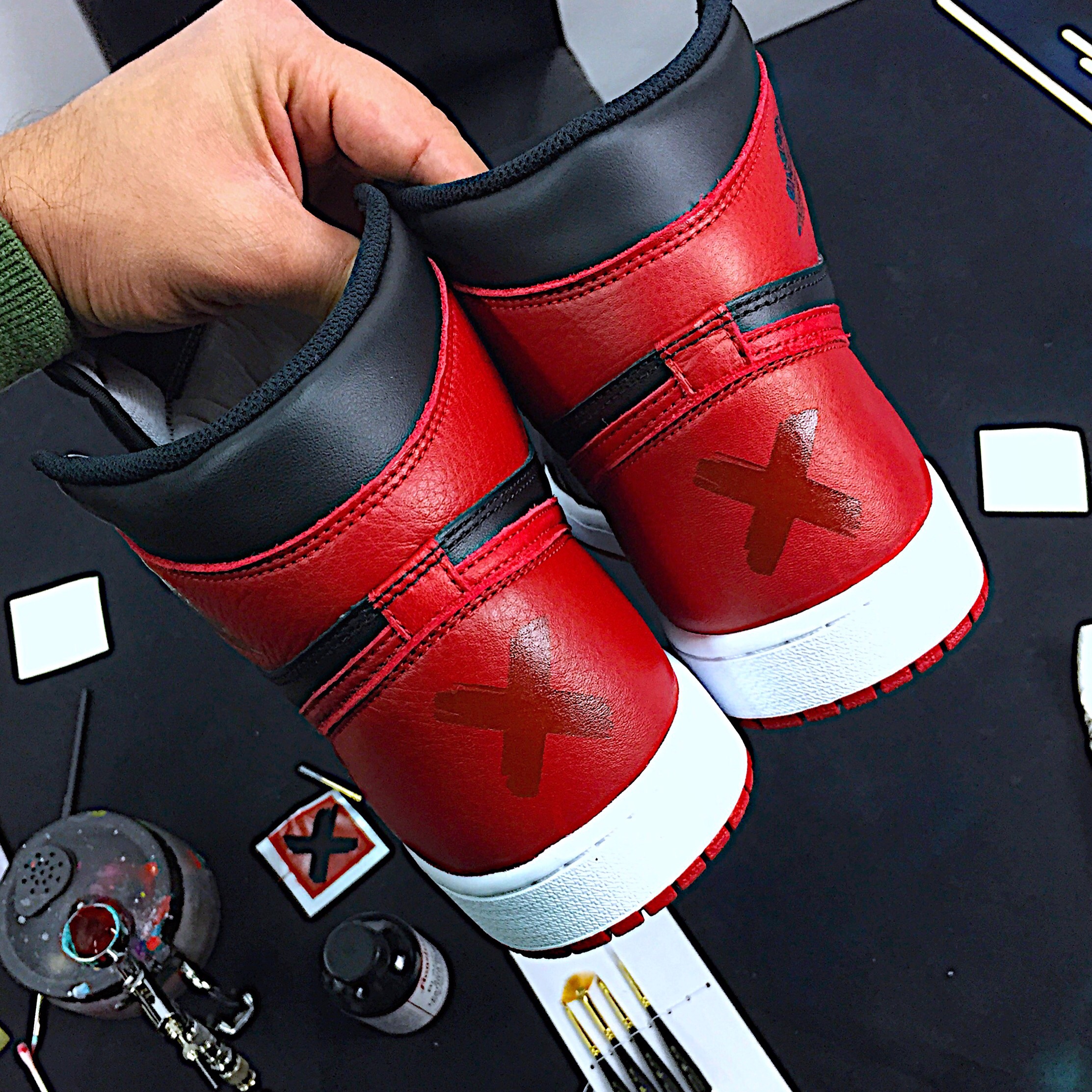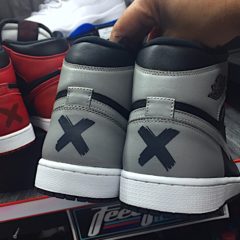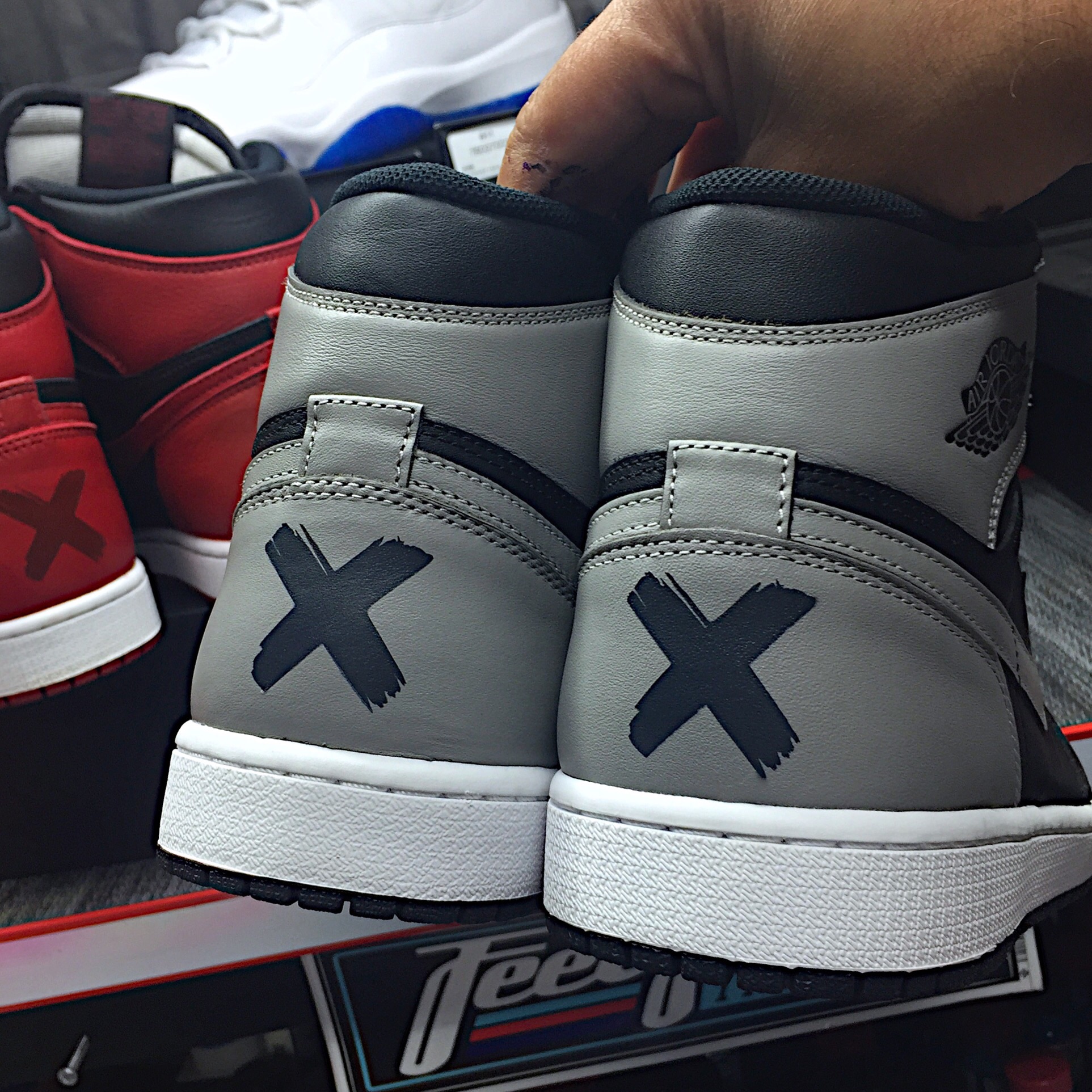 Banned Logo Stencil Set
Drop your own Banned logos on your kicks with the help of these simple Banned stencils! The pair of stencils comes ready to peel and drop on your Jordan's immediately and lays out exactly where you need to map out your stencil! Painting your logo can either be done by hand brush or airbrush!
One pair covers the back heel for the Jordan 1 model in the exact size shown in the picture.
Stand out from the rest and add your own personal touch!
To watch a tutorial of how to apply a stencil, check out the tutorial below:
$

12.99
Add to cart
Sale!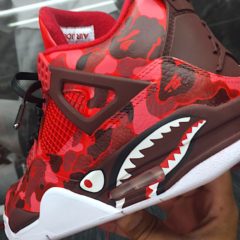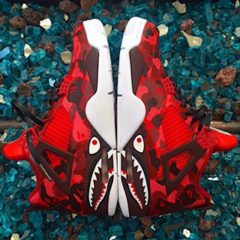 Bape Stencil Complete Pack – Camo Bape + Shark Face Stencils
Create your own Bape custom pair of shoes using this simple Bape Stencil pack!
Mix and match the Bape stencils that you need to create your own custom. The shoes pictured used the Full Bape Stencil Pack. If you would like to get the same design as the shoes pictured, we recommend purchasing the Full Bape Stencil Pack. Create your own custom by simmply applying the stencils and painting!
– Applicable on other items besides shoes. Ideal for flat surfaces. Can even be used as stickers!
– Can be either hand painted or airbrushed.
– Tutorial on how to make these shoes below!
– Transfer tape to help apply the stencils included.
Note: These stencils have a larger print than the "Bape x Supreme" stencil set on our site.
Shoe size 10 shown in pictures. Below are descriptions of each stencil.
All stencil packs come individually cut and includes transfer paper to help you apply the stencil. Here is a tutorial on how we made these Jordan 4 customs:


not rated
$

7.99 –

$

29.99
Select options
Sale!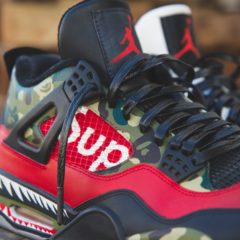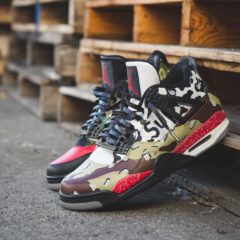 Bape x Supreme Stencil Set – Easy to Use Stencils to Customize Your Kicks!
Bape x Supreme Stencil sets are easy to apply stencils that you can place on your shoes or any other surface that you can place the stencil and paint!
Choose between 3 options:
– Bape stencils
– Supreme stencils
– Bape and Supreme stencil pack (choose this pack and save money!)
Below is a description of all you need to know.
————————————————————————————————————-
Bape Stencil Set
Note: These are smaller Bape logos made for the upper only. If you want larger Bape logos, compare to the Bape logos here before you make a decision:
BAPE STENCILS WITH SHARK FACE STENCIL PACK
This stencil set includes 10 Bape Ape vinyl stencils to help complete a professional Bape custom on your kicks. The Bape ape stencils are randomly selected to ensure you have a variety of the Camo images. There are about 3-4 different ape images so you will receive some duplicates. Save time and accurately paint Bape logos on your kicks!
To learn how to apply these stencils, check our Youtube tutorial below.
——————————————————————————————–
Supreme Stencil Set
You will receive 4 Supreme "Sup" logos for the netting area of the Jordan 4. These Sup logos have countless possibilities and can be applied in different positions on several other shoes. Get a clean Supreme box logo look and save time with these stencils!
If you are looking for the full Supreme Box logo stencil, click below:
FULL SUPREME BOX LOGO
——————————————————————————————–
Bape x Supreme Stencil Set:
In total, this stencil set includes 14 stencils. The stencils are a combination of the above stencil sets and helps you complete several possibilities in customizing your shoes. These are the same stencils we used to make the shoes pictured. Use them on one pair or split them into 2 or more kicks!
Learn how to customize your kicks with the quality and accuracy of the professionals!
To see how to apply stencils, scroll down below and check out our tutorial!
$

9.99 –

$

19.99
Select options
Sale!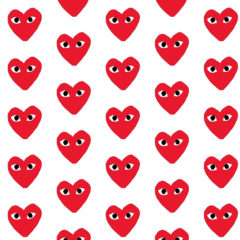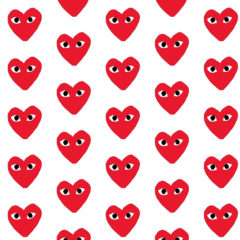 Comme Des Garcons Stencil Page
Easy to use high fashion Japanese brand Comme Des Garcons stencil page to add to your footwear or any other flat surface to place down and paint! Each heart measures approximately 1.25 x 1.25 inches.
This CDG stencil set includes:
– 2 pages that measure approximately 12 inches wide by 6 inches in height
– 2 pieces of transfer tape to help you apply the stencils
Each panel will usually cover the outside of the shoes and possibly the inside, depending on size and coverage area.
We do have a tutorial on how to apply stencils on our Youtube page www.youtube.com/feelgoodthreads
not rated
$

19.99
Add to cart
Sold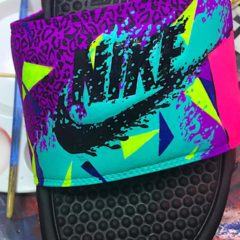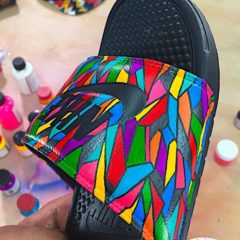 Custom Nike Slides
Here's a look at some of the custom summer slides we have created for Angelus Brand and clients as well. All of these styles we were given free reign to create whatever we liked. Prices for slides start at $150 per day and we will gladly provide the base slides for $30.
If you are interested in a particular theme, would like to provide creative insight or would like us to freestyle a pair for you (surprise you), please contact us.
We will not copy any artists original artwork, out of respect for them, so we hope you understand. If you are unsure if your theme may be too close to another artist's work, please contact us! No orders will be fulfilled until we communicate pricing, time to complete and other important details.
$

150.00
Read more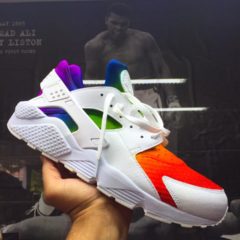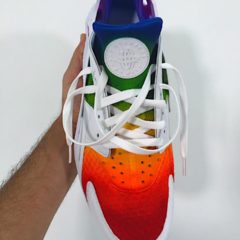 Custom Rainbow Huaraches – Only 5 Spots Available
We will be opening up 5 spots for the rainbow custom we did for Angelus Brand on their YouTube channel.
The spots will have 2 options:
1. You ship shoes, we charge for the custom and ship back – $165
2. We purchase shoes, do the custom and ship to you – $290
We are only accepting 5 customers for this rainbow Huarache custom.
Estimated time of completion will be 2 weeks.  We will start customizing once all orders have been fulfilled and paid.
If you are shipping your Huaraches, please contact us first before placing order.  We must confirm you purchasing the correct pair and they must be brand new.
Contact us at info@shopfeelgood.com for any additional questions.
$

165.00 –

$

290.00
Select options
Sale!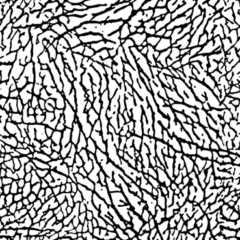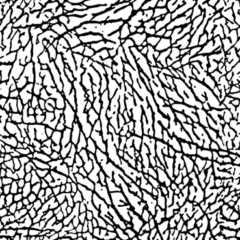 Elephant Print Stencil
The Elephant print stencil set is an easy to apply stencil that you can place on your shoes or any other surface that you can place the stencil and paint!
This Elephant print stencil set includes:
– 2 pages that measure approximately 11 inches wide by 4 inches in height
– 2 pieces of transfer tape to help you apply the stencils
Each panel will usually cover the outside of the shoes and possibly the inside, depending on size and coverage area.
We do have a tutorial on how to apply stencils on our Youtube page www.youtube.com/feelgoodthreads
not rated
$

19.99
Add to cart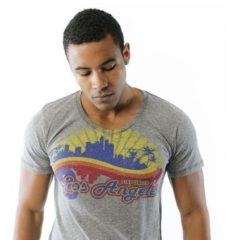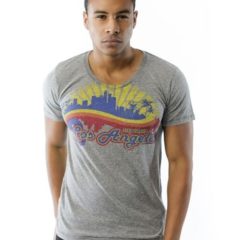 FEELGOOD THREADS – STAY CLASSY LA IN HEATHER GREY
– Available in Vintage Heather Grey or Royal Blue- 50% Poly / 37% Cotton / 13% Rayon- Limited edition run, only 100 produced!- Proudly cut, sewn, washed and printed in Los Angeles, California. Support American made!

– Pre-washed to add additional softness and distress, preshrunk, no two shirts are the same!

– Vintage heather grey t-shirt with distressed Los Angeles skyline

– Retro 80s feel shirt with hidden pocket at left chest

Available sizes: S, M, L, XL & XXL
not rated
$

33.99
Select options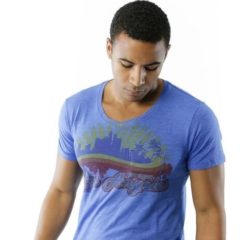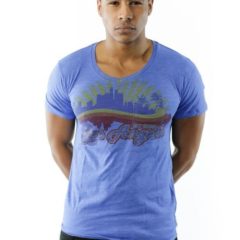 FEELGOOD THREADS – STAY CLASSY LA IN ROYAL BLUE
– Available in Vintage Royal Blue or Heather Grey- 50% Poly / 37% Cotton / 13% Rayon- Limited edition run- Proudly cut, sewn, washed and printed in Los Angeles, California. Support American made!- Pre-washed to add additional softness and distress, preshrunk, no two shirts are the same!- Vintage royal blue t-shirt with distressed Los Angeles skyline- Retro 80s feel shirt with hidden pocket at left chest

Available sizes: S, M, L, XL & XXL
not rated
$

33.99
Select options